Wagonhound Outfitters offers elite, trophy hunts for elk in the heart of the Laramie Mountain range. We are best known for being home to some of the best elk hunting in North America. Wagonhound Outfitting consists of well over 250,000 private acres in the famous elk area 7. While on a hunt with us you will be with an experienced professional guide who will work to make your Wyoming hunt one that will not be surpassed by any other. Our guides have led hunters to numerous award winning trophy bulls over the last decade. One of the most exhilarating experiences as a hunter is one of our September archery elk hunts. This has become a sought after hunt for many television hunting celebrities. Come enjoy the fall colors and the beauty of the ranch while experiencing one of the most spectacular sights in nature, the Rocky Mountain Elk rut. Whether on a September archery hunt or an October/November rifle hunt, you won't be disappointed in Wagonhound Outfitters' experience, quality, and hospitality.

---
Browse Elk Hunt Options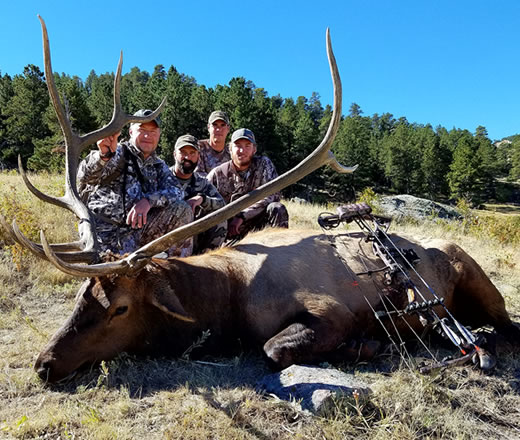 Tent Camp Hunt
Our tent camp hunt offers a more affordable trophy bull elk hunt without sacrificing comfort or quality. This is a drive-to camp in an area of the ranch that is a bit further than we can access from the lodge. You will experience great home cooking in the 1930's "Hanna Cabin" and running water in our newly built bath house while sleeping in comfortable wall tent accomodations. This part of the ranch is hard to beat for prime archery elk hunting country in September or the early rifle hunts that we offer during the 2nd two weeks of October. Listen to bugling elk while sleeping in your wall tent at night. Our guides are hardworking and very knowledgeable and they will work hard to make sure you make the most of this precious tag.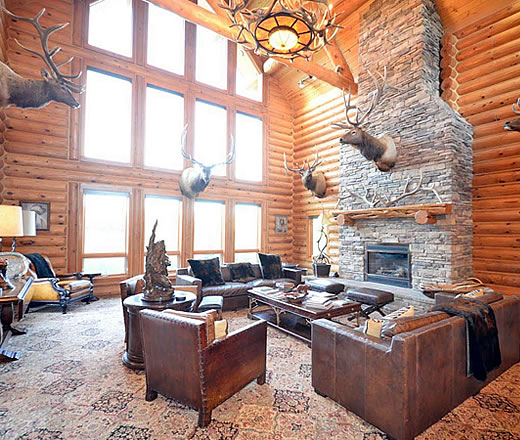 Lodge Hunt
Enjoy 5 star accommodations when booking one of our lodge hunts. You will have a private room and bathroom and plenty of space to relax in our 8,000 sq ft, newly remodeled lodge. This is a great option for the hunter who would like to bring a spouse along as an observer. Don't let the accommodations fool you as we take our elk hunting very serious and value the experience and quality of the hunt as much as the stay. We know how valuable an area 7 elk tag is and we do everything we can to make sure your choice to hunt with us one you won't be able to top.