Trophy Mountain Outfitters offers archery and rifle elk hunting from 3 pack-in wilderness camps located in the Gros Ventre Wilderness near Jackson Hole. We also offer hunting from a drive-in tent camp located at our trail-head in the Wyoming Range on the Bridger Teton National Forest.
With camps located in two separate elk units we are able to offer two opening weeks for elk. Our north camps open for rifle elk on Sept. 26th. Our drive-in tent camp opens October 15th. None of our camps have more than two weeks of rifle elk hunters, giving us the ability to continually hunt in a fresh area.
Our archery season is two weeks, first week is Sept 7-12 second week Sept 15-20. For a great elk hunt give us a call.
Browse Elk Hunt Options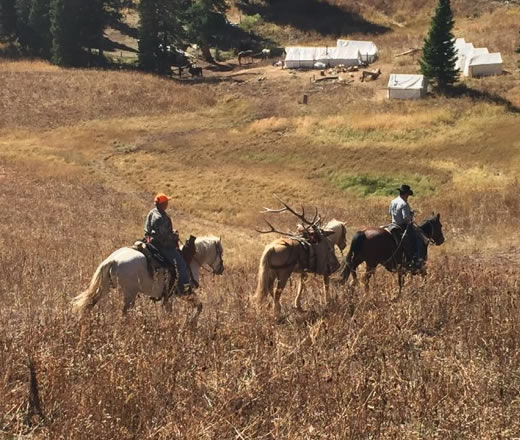 Option #1 Pack-In Wilderness Camp
This hunt is a traditional pack-in wilderness horseback elk hunt. We offer elk hunting from 3 separate pack in wilderness camps.
Depending on the camp you are hunting from, it is usually around a 2 ½ - 3 ½ hour ride from the trailhead to the camp. Each camp consists of a cook/dinning tent and comfortable wall tents for sleeping with cots mattresses lantern and wood burning stove.
Rifle hunt dates: Sept. 26th - October 1st and October 4th – 9th.
Hunt area is a General Elk License.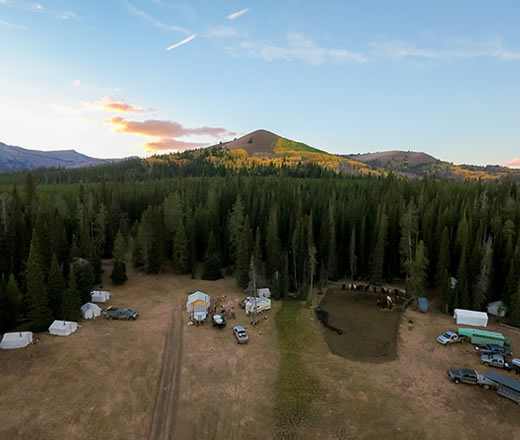 Option #2 Drive to Tent Camp
Our drive-in wall tent camp is located in the Wyoming Range Mountains. This is a horseback hunt and we will ride from camp each morning or load the horses in a trailer and drive to a nearby trailhead for the day's hunt.
Rifle hunt dates October 15th – 20th and October 24th – 29th.
Hunt area is a General Elk License.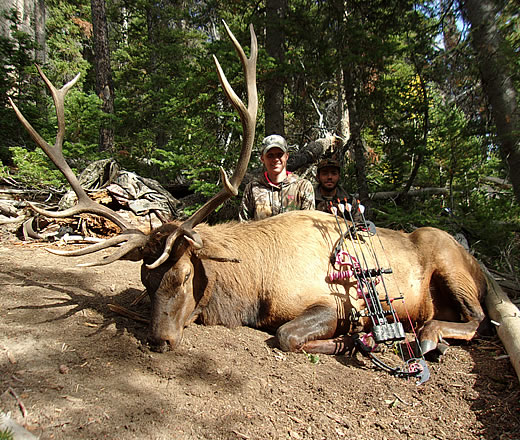 Archery Elk Hunt
We offer archery hunts from both our pack-in wilderness camps and our drive to camp.
We offer two weeks of archery elk hunting Sept. 7-12th or Sept. 15-20th.