Wyoming Elk Hunts in Southeastern Wyoming on Private Land. We specialize in 4wd accessible hunts with no horses. We have 3 elk hunts to offer in Southeast Wyoming and each hunt has different adventure. Our variety of hunts go from easy river bottom elk hunts to a more physical hunt on the mountain. We have a lodge hunt along with a tent camp to offer and we do not use horses.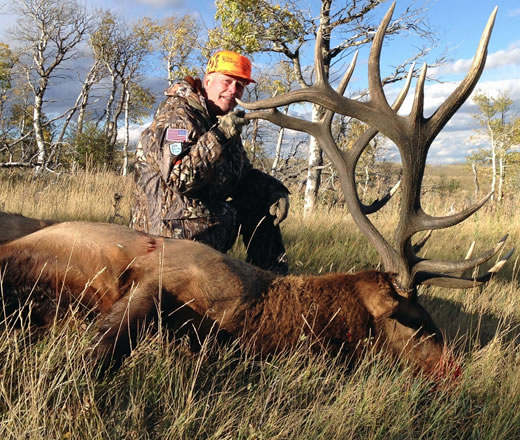 Hunt 1 - River Bottom Elk, Private Land, Lodge Hunt, Limited Quota
This elk unit is a highly coveted area. With the primary elk habitat and hunting habitat being private land allows these bull elk to grow. It will take 8+ points to draw this unit but let me tell you it will be worth the wait. This hunt is our LEAST Physical hunt, you will be hunting hayfield, cottonwood creek bottoms and aspen parks. This area has a high bull to cow ratio making it an archers dream. On our rifle hunts you will spend the first couple of days shopping around looking at different groups of elk. Once we find the right bull we will put on the stalk. We have a 98% success rate on this elk hunt and one thing to remember about this hunt is if you have a hard time getting around in the mountains this is your hunt.
---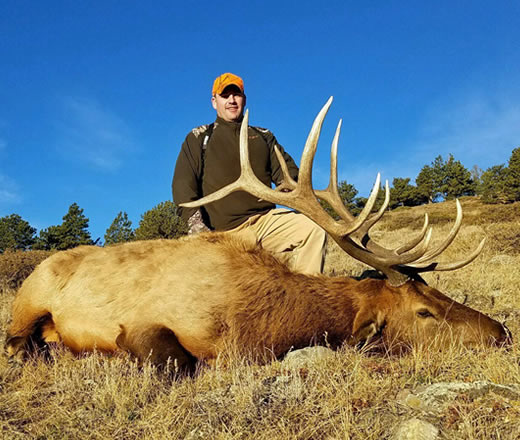 Hunt 2 - Foothill Elk, Private Land, Lodge Hunt, General Permit
This is a General area making tags more available then limited quota areas but you will still have to draw this tag. Deadline is January 31 of each calendar year. This ranch is also easy to hunt we have four-wheel drive access to all parts of the ranch. It has gentle rolling hills covered in aspen parks ponderosa and lodge pole pine. You will be hunting from hay meadows to the dark timber on the private ranch. The elk herds range in sizes of 25 to 250 depending on the time of year you hunt them. These elk usually stay in the meadows during the morning and evenings and head up to the dense pine for mid-day cover. We have wallows to hunt over for our early archery elk hunts however we prefer the call and stalk method for archery elk.
---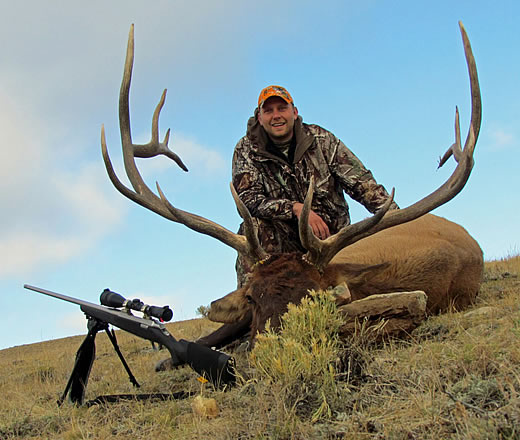 Hunt 3 - Mountain Elk, Private Land, Tent Camp, General Permit
This ranch is the newest addition to the Tyler Sims Outfitting operation. 2012 was the first year we guided on this ranch and with 100% success on trophy bulls we could not let this ranch go. You will again see herds from 25 to 250 depending on the time of the year you book your hunt. We only offer a limited number of hunts on this ranch. This ranch is the most physical elk hunting ranch I have to offer but the rewards are worth it. You will be glassing rolling foothills, timber parks, and two different drainages. This hunt is also a tent camp. You will be staying in wall tents and guides will prepare meals for you on the spot. Once you fill out you will be transported to our main lodge. One of our challenges on this hunt is the lack of sleep. During the rut elk bugle all night long as they work down to the hay meadows.